Pumping Milk at 40,000 Feet: Four Women Pilots Are Navigating a Course toward Fairness
Hearing a woman's voice come over the intercom before takeoff, "this is your captain speaking," can be a moving experience, even today: She made it! She beat the odds! A stirring sense of admiration as you check that your seatbelt is indeed securely fastened for takeoff.
But women who work in roles traditionally held by men often face stereotypes and unfair treatment on the job. This was certainly true for four Frontier Airlines pilots who filed complaints yesterday with the Equal Employment Opportunity Commission after Frontier denied their right to accommodations for pregnancy and breastfeeding. Each of these women beat the odds when she landed a career as a pilot, only to face discrimination when she became a mother. With the help of the ACLU, they're seeking justice – for themselves and for other women pilots who will become parents.
The crux of the pilots' complaint is that Frontier Airlines treats pregnancy and breastfeeding less favorably than other medical conditions or disabilities, a form of illegal sex discrimination under the federal Pregnancy Discrimination Act. The complaints also allege that the airline's policies are illegal under federal antidiscrimination law because they have a disproportionate negative effect on women. And the pilots assert that Frontier violated a Colorado state law that requires employers to provide break time and space for nursing mothers to pump breastmilk (similar to the federal Break Time for Nursing Mothers Law). Frontier's policy forces pregnant women to take eight to 10 weeks of unpaid leave before their due date, and then caps their (also unpaid) maternity leave at 120 days. Then, when new mothers return to work, the company makes it unnecessarily difficult for them to work while breastfeeding.
The treatment reported by the pilots is unfair, and it's unlawful. Male pilots who have temporary medical conditions are eligible for alternative assignments on the ground, but the pregnant pilots weren't given that option, and instead were forced out on leave more than two months before their babies were due. The pilots don't claim that the airline must allow pregnant women to fly during those final months, but only that they should have been treated the same as non-pregnant pilots who are temporarily unable to fly. Assigning the pregnant pilots to an alternative temporary position during pregnancy would have enabled them to continue earning an income to support their growing families.
After the pilots gave birth, the airline required them to return to the cockpit within 120 days, according to the pilots' complaints. But when they returned, the airline refused to accommodate the pilots' need to express breastmilk on the job by either granting a temporary reassignment, facilitating pumping on planes, or providing space at airports. The airline also refused to allow the pilots to take additional medical leave to enable them to continue breastfeeding, even though other employees who need temporary leave for medical conditions enjoy that benefit.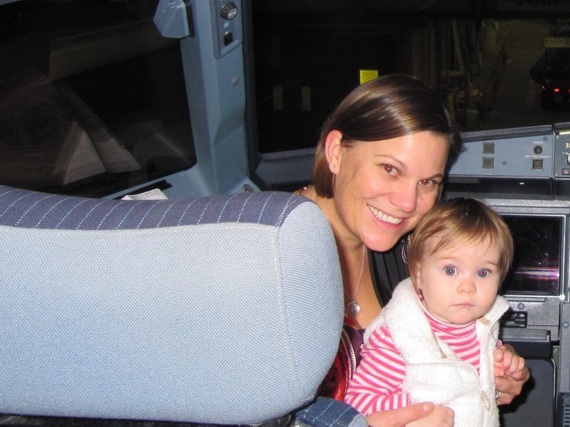 Pilot Brandy Beck with her daughter
Breastfeeding offers extensive health benefits for both mother and baby, from strengthening baby's immune system to reducing mom's risk of cancer. The American Association of Pediatrics recommends that women breastfeed their babies during the first year of life. To do so, women who are away from their babies need to pump breast milk as frequently as they would breastfeed the baby. Going for too long without pumping can lead to painful and serious medical complications and can cause a woman's milk supply to dry up.
Each of the four Frontier pilots say they repeatedly asked their employer for help – to keep working during pregnancy, to receive an accommodation to pump breastmilk – but their requests for help were met by radio silence. Not surprisingly, the women's health and finances suffered as a result. Three of the women say they suffered from mastitis, an infection of the breast tissue, and one of the pilots had to terminate breastfeeding early after her milk supply dried up.
Pilots are far from alone in facing unfair treatment at work during pregnancy and following birth. Discrimination against pregnant women and nursing mothers can be found in every industry, although women working low-wage and physically demanding jobs often face the worst of it. Despite federal and state laws that require employers to accommodate pregnant and breastfeeding women in most situations, a quarter of a million women'srequests for pregnancy accommodation are denied each year, and over sixty percent of nursing mothers are not provided the time and space they need to pump.
But women are increasingly taking action against unfair treatment. The Center for WorkLife Law at the University of California, Hastings College of the Law has found that the number of pregnancy and lactation accommodation lawsuits filed against employers in recent years has grown significantly. Many employers already recognize the benefits – to employees and to the company's bottom line – that stem from providing accommodations to pregnant women and nursing mothers. Other employers simply recognize that a failure to accommodate may expose them to legal liability. Just this week the New York City Commission on Human Rights issued comprehensive guidance to employers about their legal obligation to provide reasonable accommodations for pregnancy and breastfeeding.
No woman should have to make the choice between a healthy pregnancy and baby, or keeping her job. Pregnant women can learn more about their workplace rights at the Center for WorkLife Law's pregnancy accommodation resource center, www.PregnantAtWork.org. Pregnant and parenting students can learn about their rights at www.ThePregnantScholar.org. Breastfeeding mothers, pregnant women, and other caregivers may also contact WorkLife Law's free legal hotline at 415-703-8276 or hotline@nullworklifelaw.org.
To learn more about the pilots' pursuit of justice, check out this blog written by one of the pilots or the ACLU's video and press release about the case. You can stand with the pilots by signing their petition to tell Frontier Airlines that Sexism Won't Fly.
Liz Morris is the deputy director of the Center for WorkLife Law and an adjunct law professor at the University of California Hastings College of the Law in San Francisco. Her research and advocacy advance gender equality and promote work-life balance for women and men alike. Liz focuses on a variety of work-family legal and policy issues, including expanding protections for pregnant and breastfeeding workers and students, and improving employer scheduling practices to increase work-life stability for hourly workers. Prior to joining WorkLife Law, Liz provided legal representation to working people and labor unions. She holds a J.D. from Stanford University.
Described as having "something approaching rock star status" in her field by The New York Times Magazine, Joan C. Williams has played a central role in reshaping the conversation about work, gender, and class over the past quarter century. Williams is a Distinguished Professor of Law, Hastings Foundation Chair, and Founding Director of the Center for WorkLife Law at the University of California, Hastings College of the Law. Read More >>